Antarctica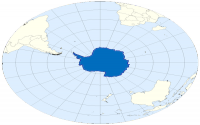 Quicktabs: Keywords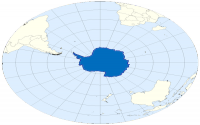 Temperatures not much warmer than the planet is experiencing now were sufficient to melt a major part of the East Antarctic ice sheet in Earth's past, scientists reported Wednesday, including during one era about 125,000 years ago when sea levels were as much as 20 to 30 feet higher than they are now.
[ More ]
In particular, the rush to reclaim the Arctic is "reminiscent of early efforts to conquer Antarctica." n293 The Antarctic Treaty System is a unique international legal regime and has developed international cooperation for almost fifty years. n294 When the Antarctic Treaty was negotiated in 1959, it designated the continent as a completely demilitarized zone of peace, halting all claims of sovereignty in order to focus on exploration and scientific research. n295 Drilling was also prohibited without the approval of threefourths of the nations with voting power.
However, the South Pole is an inexact parallel. Antarctica, in contrast to the Arctic, is an expansive landmass, and over 90% of the Antarctic is entirely inaccessible. Measuring 14 million square kilometers, the continent is larger than the U.S. and Mexico combined, and dwarfs the Arctic. n296 While there is extensive marine biodiversity, the mineral and hydrocarbon resources of the Antarctic do not exist in the same commercially exploitable quantities as they do in the North Pole. n297 Several effete attempts have been made to stake a claim of sovereignty in the pursuit of Southern Ocean seabed mining, but these are without precedential value. The most dispositive reason militating against using the Antarctic Treaty system as a basis for a new Arctic regime is simply that some Arctic States are far more concerned with their own claims of sovereignty than with environmental issues.
[ Page 234-235 ]
Implications of Global Warming on State Sovereignty and Arctic Resources under the United Nations Convention on the Law of the Sea: How the Arctic is no Longer Communis Omnium Naturali Jure
."
Richmond Journal of Global Law & Business
. Vol. 8. (Winter 2008): 195-248.
[ More (12 quotes) ]
"