Mining the Seafloor for Rare-Earth Minerals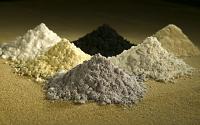 For decades, entrepreneurs have tried to strike it rich by gathering up the manganese nodules that carpet the global seabed but until now they have not been able to prove the economic viability of these ventures. The nodules turn out to contain so-called rare-earth minerals — elements that have wide commercial and military application but have hit a production roadblock.
Quicktabs: News
U.S. companies increasingly seek to engage in seabed mining for minerals such as rare earth elements and cobalt that are critical to the broad U.S. economy and used in producing defense assets. The deep seabed contains two potential sources for rare earth elements: polymetallic nodules which typically contain manganese, nickel, copper, cobalt and rare earth minerals; and  sea-floor hydrothermal vents which pump out rare-earth elements dissolved in their hot fluids.