Rare Earth Elements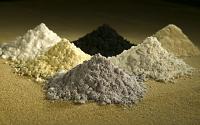 A rare earth element (REE) or rare earth metal is one of a set of seventeen chemical elements in the periodic table, specifically the fifteen lanthanides plus scandium and yttrium. They are used extensively in the production of battery alloys, ceramics and magnets that advanced technologies rely on and are a critical to the development of modern military hardware. Researchers believe that deep seabed mining could one day become a significant source of rare earth elements.
Quicktabs: Keywords
U.S. companies increasingly seek to engage in seabed mining for minerals such as rare earth elements and cobalt that are critical to the broad U.S. economy and used in producing defense assets. The deep seabed contains two potential sources for rare earth elements: polymetallic nodules which typically contain manganese, nickel, copper, cobalt and rare earth minerals; and  sea-floor hydrothermal vents which pump out rare-earth elements dissolved in their hot fluids.
U.S. next-generation military technology has become so dependent on a steady supply of rare earth metals that it could become a strategic disadvantage in any coming war with China. In addition, these metals have become valuable for advanced electronics and energy efficient "green" technologies.