Arctic Cooperation May Ease Russia-US Tensions – Analyst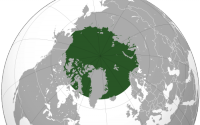 Tense relations between Russia and the US and NATO could potentially be cooled through Arctic cooperation, according to the program director at the George Washington Institute for European, Russian, and Eurasian Studies.
Quicktabs: News
Tension between Russia and other Arctic nations will remain high as they continue to compete for Arctic territory. Maintaining UNCLOS as a viable legal framework for settling Arctic territorial claims should help avert potential confrontations between Russia and other UNCLOS members.