Seabed mining - from science fiction to reality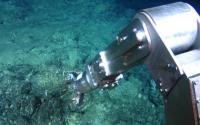 A quiet international rush is under way to stake out seabed claims to valuable minerals, concentrating on the central Pacific. Led by big businesses such as the US defence contractor, Lockheed Martin, it offers the dream of fortunes to poor island nations.
Quicktabs: News
The technology for deep-sea mining is already widely available, consisting of mining support platform or vessel; a launch and recovery system; a crawler with a mining head, centrifugal pump and vertical transport system; and electrical, control, instrumentation and visualization systems. Companies such as Lockheed Martin, Soil Machine Dynamics, IHC Mining and Bauer or Nautilus Minerals are developing vehicles for deep-sea mining, pledging they are in the position to readily develop techniques to operate down to 5,000 metre depth.