Rare Earth Metal Balls Found Beneath The Atlantic Ocean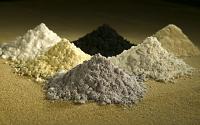 Scientists looking for deep sea organisms on a research cruise last month got a surprise when, instead of deep sea life, they pulled up metal balls the size of softballs. The German researchers stumbled inadvertently onto the discovery of the largest deposit of manganese nodules known to exist in the Atlantic ocean.
Quicktabs: News
U.S. companies increasingly seek to engage in seabed mining for minerals such as rare earth elements and cobalt that are critical to the broad U.S. economy and used in producing defense assets. The deep seabed contains two potential sources for rare earth elements: polymetallic nodules which typically contain manganese, nickel, copper, cobalt and rare earth minerals; and  sea-floor hydrothermal vents which pump out rare-earth elements dissolved in their hot fluids.