Center for Biological Diversity lawsuit against US for deepsea mining approval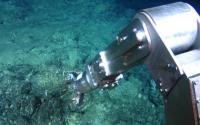 Nonprofit conservation organisation the Center for Biological Diversity has filed a lawsuit against the US Government for permitting controversial large-scale deepsea mining in the Clarion-Clipperton Zone.
Quicktabs: News
Deep seabed mining could have serious impacts on the ocean environment and the future livelihoods and well being of coastal communities.  An international, multi-sector approach to management and protection, similar to that under development by the International Seabed Authority under UNCLOS, is needed, if we are to ensure the health and sustainable use of our oceans.