Marine Conservation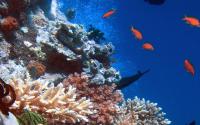 Marine conservation, also known as marine resources conservation, is the protection and preservation of ecosystems in oceans and seas. Marine conservation focuses on limiting human-caused damage to marine ecosystems, and on restoring damaged marine ecosystems. Marine conservation also focuses on preserving vulnerable marine species.
Quicktabs: Keywords
U.S. ratification of UNCLOS will have a positive effect on the environment as the conservation of ocean wildlife, the protection of delicate marine ecosystems, and the control of marine pollution are by their very nature multilateral issues. U.S. ratification will demonstrate U.S. commitment to address these problems in a cooperative manner at a time when some view U.S. policy as generally antithetical to multilateral arrangements. The environmental community strongly favors UNCLOS and U.S. ratification would send a message of support
Deep seabed mining could have serious impacts on the ocean environment and the future livelihoods and well being of coastal communities.  An international, multi-sector approach to management and protection, similar to that under development by the International Seabed Authority under UNCLOS, is needed, if we are to ensure the health and sustainable use of our oceans.