U.N. body issues exploration contracts as era of deep seabed mining nears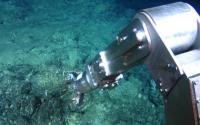 The era of deep seabed mining appears to be dawning, fueled by technological advances in robotics and dwindling land-based deposits. Rising demand for copper, cobalt, gold and the rare earth elements vital in manufacturing smartphones and other high-tech products is causing a prospecting rush to the dark seafloor deep beneath the waves.
Quicktabs: News
Deep seabed mining could have serious impacts on the ocean environment and the future livelihoods and well being of coastal communities.  An international, multi-sector approach to management and protection, similar to that under development by the International Seabed Authority under UNCLOS, is needed, if we are to ensure the health and sustainable use of our oceans.