The US Needs Domestic Access to Rare Earth Minerals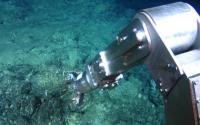 The author argues that if the U.S. wants to increase its access to Rare Earth Elements make domestic mining a more attractive investment then the Senate should ratify the Law of the Sea Treaty.
Quicktabs: News
U.S. companies increasingly seek to engage in seabed mining for minerals such as rare earth elements and cobalt that are critical to the broad U.S. economy and used in producing defense assets. The deep seabed contains two potential sources for rare earth elements: polymetallic nodules which typically contain manganese, nickel, copper, cobalt and rare earth minerals; and  sea-floor hydrothermal vents which pump out rare-earth elements dissolved in their hot fluids.