Deep Sea Mining a New Ocean Threat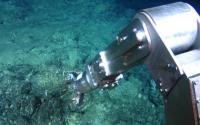 The author surveys the emerging deep sea mining industry and argues that now is the time to engage and regulate the practice to ensure "the same industrial paradigm that destroyed much of the terrestrial ecosystems of our home planet to do the same in the deep sea."
Quicktabs: News
Deep seabed mining could have serious impacts on the ocean environment and the future livelihoods and well being of coastal communities.  An international, multi-sector approach to management and protection, similar to that under development by the International Seabed Authority under UNCLOS, is needed, if we are to ensure the health and sustainable use of our oceans.