The Ocean Could Be the New Gold Rush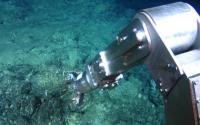 As the future of seafloor mining is debated this week, here are five things you need to know about the risks and rewards of extracting precious metals and minerals from the ocean.
Quicktabs: News
If the U.S. does not ratify UNCLOS, it risks losing the remaining three possible seabed mining sites, with billions in the strategic minerals manganese, copper, cobalt and nickel at stake. A single seabed mining operation would spur the economy with total capital purchases of close to one and a half billion dollars and would stimulate robust job creation.