U.S. ratification of UNCLOS key to development of deep seabed mining industry
The development of deep seabed claims is incredibly expensive. Companies in the U.S. are reluctant to invest heavily in deep seabed mining because of the risk that their activities would not withstand a legal challenge since the U.S. is not a party to the Convention. Conversely, foreign companies, because their governments have joined the Convention, have access to the international bodies that grant the legal claims to operate in the deep seabed area. The U.S. cannot represent the interests of its companies in those bodies.
Quicktabs: Arguments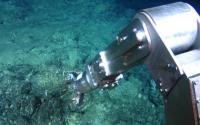 After a lengthy pandemic pause, the International Seabed Authority is set to debate mining regulations but the U.S. is sidelined in the discussions as a non-party to UNCLOS.
[ More ]