Future Deep Sea Mining Sites Are Bursting With Rare Marine Species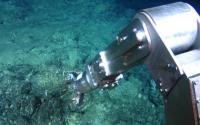 A new study finds that the Clarion-Clipperton Zone, the site of much interest for mining, "harbors one of the most diverse communities of megafauna to be recorded at abyssal depths in the deep sea" raising questions about the environmental impact of deep seabed mining.
Quicktabs: News
Deep seabed mining could have serious impacts on the ocean environment and the future livelihoods and well being of coastal communities.  An international, multi-sector approach to management and protection, similar to that under development by the International Seabed Authority under UNCLOS, is needed, if we are to ensure the health and sustainable use of our oceans.