Adrift in the South China Sea: The High Cost of Stopping Freedom of Navigation Operations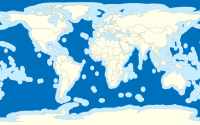 The authors argue that the Trump Administration's suspension of FONOPs, presumably to curry favor with the Chinese over North Korea or trade, is a bad bargain for the U.S. as it will not incentivize China to cooperate and could destabilize relations in the long run.
Quicktabs: News
Exactly why the South China Sea has fallen off the administration's agenda is not clear. But it is possible that U.S. officials have decided to lift the pressure on China's maritime outposts because they believe that doing so could help secure Beijing's help in managing North Korea. There are other signs that suggest that the administration may be trying to gain China's favor. When Secretary of State Rex Tillerson went to Beijing in March, for example, the White House authorized him to describe the bilateral relationship in language favored by Chinese officials—a puzzling accommodation in light of the importance that Beijing attaches to such rhetoric. The next month, Trump called on South Korea to pay for a missile defense system whose deployment China has opposed. The Trump administration has also released no details about when it will announce arms sales to Taiwan, and Trump has indicated that he will seek Beijing's permission before speaking to Taiwan's president again. (Trump spoke on the phone with Taiwanese President Tsai Ing-wen in December, in a break from longstanding U.S. policy that angered China.)
If this is the administration's logic, it is deeply flawed. China is indeed capable of pressuring North Korea, since Beijing supports much of that country's economy. But China has long prioritized the stability of the Korean Peninsula over its denuclearization, and those preferences will not change. More likely is that Beijing will pressure North Korea just enough to demonstrate that it is pitching in, avoiding the kinds of dramatic steps that would push Pyongyang toward denuclearization at the risk of the regime's collapse. China will not ignore its interests in the Korean Peninsula simply because Washington gives up its own interests in the South China Sea.
In the medium term, focusing on managing North Korea at the expense of the United States' interests in the South China Sea could destabilize the U.S.–Chinese relationship. Such a course would suggest a dangerously narrow definition of U.S. priorities, encouraging China to more assertively press its position on other regional issues, such as its relationship with Taiwan or the territorial disputes in the East China Sea.
But it is in the long term that U.S. acquiescence in the South China Sea would be the most damaging. If the United States ceases to defend freedom of navigation, others will not make up for its absence. U.S. allies such Australia and Japan are committed to international law, but they do not have their own freedom of navigation programs, and they cannot maintain a regular military presence in the South China Sea. Similarly, if the Trump administration does not seek to rally Southeast Asian countries to support the waterway's openness, those countries will have little reason to stand up to China on their own. States in the region, including U.S. partners, will quickly presume that Washington is pulling back from Asia and will increasingly view China as the region's most dependable power, despite its misbehavior at sea. The result would be a tilt in Asia's balance of power toward Beijing.
If the United States waits months to get tough in the South China Sea, it will do so from a weaker legal, military, and diplomatic position than it holds today. Making matters worse, a sudden shift after a long delay could cause whiplash in Beijing, sending the bilateral relationship into a crisis.
That is why the United States must step up now. Just as international law does not enforce itself, access to the oceans cannot be taken for granted—and it should certainly not be traded away.