Biodiversity loss from deep-sea mining will be unavoidable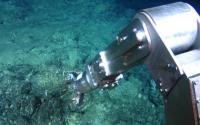 Biodiversity losses from deep-sea mining are unavoidable and possibly irrevocable, an international team of 15 marine scientists, resource economists and legal scholars argue in a letter published today in the journal Nature Geoscience.
Quicktabs: News
Deep seabed mining could have serious impacts on the ocean environment and the future livelihoods and well being of coastal communities.  An international, multi-sector approach to management and protection, similar to that under development by the International Seabed Authority under UNCLOS, is needed, if we are to ensure the health and sustainable use of our oceans.