As demand increases for rare earth metals, deep sea mining gets second look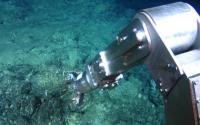 The risk of running out of rare earth metals that are essential to modern technology has led to a surge in interest in mining the deep seas.
Quicktabs: News
U.S. companies increasingly seek to engage in seabed mining for minerals such as rare earth elements and cobalt that are critical to the broad U.S. economy and used in producing defense assets. The deep seabed contains two potential sources for rare earth elements: polymetallic nodules which typically contain manganese, nickel, copper, cobalt and rare earth minerals; and  sea-floor hydrothermal vents which pump out rare-earth elements dissolved in their hot fluids.