New Study Reports Potential for Deepsea Mining Damage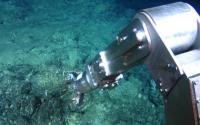 A new international study has demonstrated that deepsea nodule mining will cause long-lasting damage to deepsea life. This study, led by scientists at the National Oceanography Centre (NOC) in the U.K., was the first to review all the available information on the impacts of small-scale sea-floor disturbances simulating mining activity.
[
Download Report
]
Quicktabs: News
Deep seabed mining could have serious impacts on the ocean environment and the future livelihoods and well being of coastal communities.  An international, multi-sector approach to management and protection, similar to that under development by the International Seabed Authority under UNCLOS, is needed, if we are to ensure the health and sustainable use of our oceans.