Deep-Sea Mining for Rare-Earth Metals Looms, as Do Environmental Questions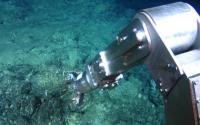 Once thought too expensive and too difficult, commercial scale mining of the deep sea is poised to become a reality as early as 2019. But scientists warn reaching rare minerals on and under the sea floor could cause irreversible damage to an environment that is still poorly understood.
Quicktabs: News
Deep seabed mining could have serious impacts on the ocean environment and the future livelihoods and well being of coastal communities.  An international, multi-sector approach to management and protection, similar to that under development by the International Seabed Authority under UNCLOS, is needed, if we are to ensure the health and sustainable use of our oceans.