Seabed-Mining Foes Press U.N. to Weigh Climate Impacts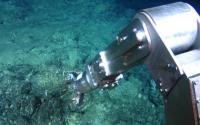 Mining interests are racing to extract minerals from the ocean bottom that would be used in batteries for electric vehicles but advocates warn that in addition to its effect on the deep seabed ecosystem, mining could have the counterproductive effect of increasing global warming by releasing carbon stored in deep sea sediments.
Quicktabs: News
Deep seabed mining could have serious impacts on the ocean environment and the future livelihoods and well being of coastal communities.  An international, multi-sector approach to management and protection, similar to that under development by the International Seabed Authority under UNCLOS, is needed, if we are to ensure the health and sustainable use of our oceans.