The oceans contain vast mineral resources. Can the deep sea be mined without catastrophic results?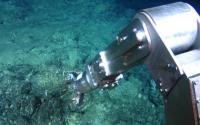 Mining agencies promise to minimize harm to ocean ecosystems. Scientists say we can't predict its full extent — or how to reverse it.
Quicktabs: News
Deep seabed mining could have serious impacts on the ocean environment and the future livelihoods and well being of coastal communities.  An international, multi-sector approach to management and protection, similar to that under development by the International Seabed Authority under UNCLOS, is needed, if we are to ensure the health and sustainable use of our oceans.