Deep-sea 'gold rush': secretive plans to carve up the seabed decried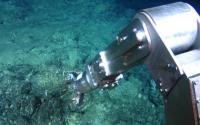 Private mining firms and arms companies are exerting a hidden and unhealthy influence on the fate of the deep-sea bed, according to a new report highlighting the threats facing the world's biggest intact ecosystem.
[
Download Report
]
Quicktabs: News
Deep seabed mining could have serious impacts on the ocean environment and the future livelihoods and well being of coastal communities.  An international, multi-sector approach to management and protection, similar to that under development by the International Seabed Authority under UNCLOS, is needed, if we are to ensure the health and sustainable use of our oceans.