Shoring Up The Metals Supply Chain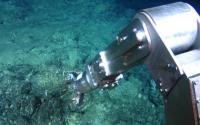 The author argues that one way the Biden Administration could meet its goal of shoring up the supply of critical rare earth metals is by signing the Law of the Sea convention, opening up the deep seabed for commerical exploitation.
Quicktabs: News
U.S. companies increasingly seek to engage in seabed mining for minerals such as rare earth elements and cobalt that are critical to the broad U.S. economy and used in producing defense assets. The deep seabed contains two potential sources for rare earth elements: polymetallic nodules which typically contain manganese, nickel, copper, cobalt and rare earth minerals; and  sea-floor hydrothermal vents which pump out rare-earth elements dissolved in their hot fluids.