A Startup Plans to Mine the Ocean Floor. It Could Be a Disaster.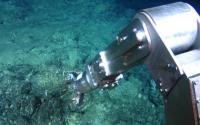 Canadian startup DeepGreen is touting seabed mining as a green alternative to land-based mineral extraction but scientists warn that seabed mining could result in environmental damages "irreversible on multi-generational timescales."
Quicktabs: News
Deep seabed mining could have serious impacts on the ocean environment and the future livelihoods and well being of coastal communities.  An international, multi-sector approach to management and protection, similar to that under development by the International Seabed Authority under UNCLOS, is needed, if we are to ensure the health and sustainable use of our oceans.