Deep-sea mining possibly as damaging as land mining, lawyers say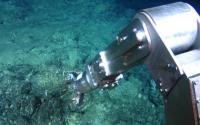 The "new global gold rush" over deep-sea mining holds the same potential pitfalls as previous resource scrambles, with environmental and social impacts ignored and the rights of Indigenous people marginalised, a paper in the Harvard Environmental Law Review has warned.
[
Download Report
]
Quicktabs: News
Deep seabed mining could have serious impacts on the ocean environment and the future livelihoods and well being of coastal communities.  An international, multi-sector approach to management and protection, similar to that under development by the International Seabed Authority under UNCLOS, is needed, if we are to ensure the health and sustainable use of our oceans.