Mysterious Deep-Ocean Creatures May Help Combat Climate Change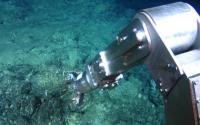 As the deep ocean faces growing peril from climate change, seabed mining and other threats, scientists have discovered that seafloor sediments are home to vast populations of previously unknown organisms that may play a crucial role in carbon sequestration and marine food webs. The finding will only further complicate the debate over the tradeoffs from deep seabed mining for critical metals needed for a transition to green energy.
Quicktabs: News
Deep seabed mining could have serious impacts on the ocean environment and the future livelihoods and well being of coastal communities.  An international, multi-sector approach to management and protection, similar to that under development by the International Seabed Authority under UNCLOS, is needed, if we are to ensure the health and sustainable use of our oceans.