Huge rare earth deposits found in Pacific: Japan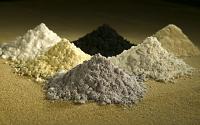 Vast deposits of rare earth minerals, crucial in making high-tech electronics products, have been found on the floor of the Pacific Ocean and can be readily extracted, Japanese scientists said on Monday.
Quicktabs: News
U.S. companies increasingly seek to engage in seabed mining for minerals such as rare earth elements and cobalt that are critical to the broad U.S. economy and used in producing defense assets. The deep seabed contains two potential sources for rare earth elements: polymetallic nodules which typically contain manganese, nickel, copper, cobalt and rare earth minerals; and  sea-floor hydrothermal vents which pump out rare-earth elements dissolved in their hot fluids.