Arctic Militarization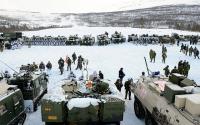 With the economic potential for new sources of mineral and energy resources and new shipping routes, many Arctic nations are preparing for a resource struggle in the Arctic.
Quicktabs: Keywords
Further, the responses of Arctic nations have been framed more as nationalistic and emotional arguments, rather than legal opinions. Despite the dubious legal authority of the Russian flagplanting in 2007, the incident provoked a degree of international consternation. True, a "19th Century imperial land grab" n242 in the Arctic is not a feasible outcome, since UNCLOS does provide a mechanism for resolving disputes that can be relied on to a certain extent. However, the illegality of a land grab does little to dampen the excited clamor of an Arctic "resource rush," poorly disguised by the other Arctic States. For example, Canada's Foreign Minister at the time objected to the imperial nature of Russia's expedition. n243 Prime Minister Stephen Harper also hopes that Canada's renewed commitment to the region will bolster its longterm presence and strengthen the nation's sovereignty over the Arctic. n244 A Danish scientist has stated that "'the Vikings hope to get [to the Arctic] first.'" n245 The Russian scientist and legislator Artur Chilingarov has avowed that "'the Arctic is ours and we should demonstrate our presence.'" n246 There is good reason to expect that the frenetic scramble to establish Arctic sovereignty will only gain momentum as the ice continues to recede, especially considering "the alacrity with which coastal states [first] 'implemented' the sovereign rights ... with respect to oil and gas, fisheries, and other natural resources of the economic zone and continental shelf" when UNCLOS entered into force.
[ Page 227 ]
Implications of Global Warming on State Sovereignty and Arctic Resources under the United Nations Convention on the Law of the Sea: How the Arctic is no Longer Communis Omnium Naturali Jure
."
Richmond Journal of Global Law & Business
. Vol. 8. (Winter 2008): 195-248.
[ More (12 quotes) ]
"