Chatham Rise mining could have impact on whales and dolphins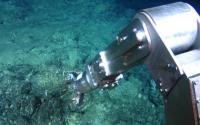 Mining phosphate on the Chatham Rise, off the east coast of New Zealand's south island, could potentially have many impacts on marine mammals like whales and dolphins, the Environmental Protection Agency was told today.
Quicktabs: News
Deep seabed mining could have serious impacts on the ocean environment and the future livelihoods and well being of coastal communities.  An international, multi-sector approach to management and protection, similar to that under development by the International Seabed Authority under UNCLOS, is needed, if we are to ensure the health and sustainable use of our oceans.