Scientists show rising concern about deep-sea mining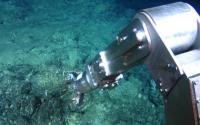 A group of researchers have called on the International Seabed Authority—which awards mining contracts in international waters—to designate areas as protected habitat in order to counterbalance the negative effects mining operations could have on ocean life.
Quicktabs: News
Deep seabed mining could have serious impacts on the ocean environment and the future livelihoods and well being of coastal communities.  An international, multi-sector approach to management and protection, similar to that under development by the International Seabed Authority under UNCLOS, is needed, if we are to ensure the health and sustainable use of our oceans.