Is deep sea mining vital for a greener future – even if it destroys ecosystems?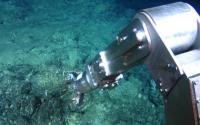 A new gold rush is targeting rich ores on the ocean floor containing valuable metals needed for smartphones and green technologies, but also hosting exotic ecosystems, raising questions about whether deep seabed mining is really an ecologic alternative to land-based mining.D
Quicktabs: News
Deep seabed mining could have serious impacts on the ocean environment and the future livelihoods and well being of coastal communities.  An international, multi-sector approach to management and protection, similar to that under development by the International Seabed Authority under UNCLOS, is needed, if we are to ensure the health and sustainable use of our oceans.