Discovery of vibrant deep-sea life prompts new worries over seabed mining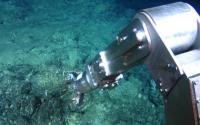 Researchers have discovered previously unknown species of sea life on the deep seabed floor, prompting concerns about how they will be impacted by the rush to mine the seabed for cobalt, manganese and other elements for use in technologies such as smartphones and electric cars.
Quicktabs: News
Deep seabed mining could have serious impacts on the ocean environment and the future livelihoods and well being of coastal communities.  An international, multi-sector approach to management and protection, similar to that under development by the International Seabed Authority under UNCLOS, is needed, if we are to ensure the health and sustainable use of our oceans.