Seabed mining is coming — bringing mineral riches and fears of epic extinctions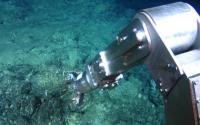 Plans are advancing to harvest precious ores from the ocean floor, but scientists say that companies have not tested them enough to avoid devastating damage.
Quicktabs: News
Deep seabed mining could have serious impacts on the ocean environment and the future livelihoods and well being of coastal communities.  An international, multi-sector approach to management and protection, similar to that under development by the International Seabed Authority under UNCLOS, is needed, if we are to ensure the health and sustainable use of our oceans.