Will Future Electric Vehicles Be Powered by Deep-Sea Metals?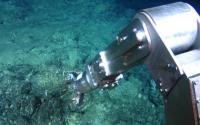 Deep seabed mining interests like DeepGreen have often argued for the environmental and social benefits of mining maganese nodules over land-based methods, especially for the valuable cobalt minerals that will be necessary for any push to build more electric vehicles. To help assess and mitigate the environmental impact of any potential deep seabed mining, two expeditions will be traversing the CCZ to test undersea mining technologies and how much damage they cause to the deep seabed.
Quicktabs: News
Deep seabed mining could have serious impacts on the ocean environment and the future livelihoods and well being of coastal communities.  An international, multi-sector approach to management and protection, similar to that under development by the International Seabed Authority under UNCLOS, is needed, if we are to ensure the health and sustainable use of our oceans.