Deep-sea mining may push hundreds of species to extinction, researchers warn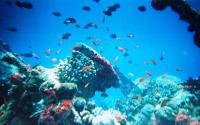 Almost two-thirds of the hundreds of mollusc species that live in the deep sea are at risk of extinction, according to a new study that rings another alarm bell over the impact on biodiversity of mining the seabed.
Quicktabs: News
Deep seabed mining could have serious impacts on the ocean environment and the future livelihoods and well being of coastal communities.  An international, multi-sector approach to management and protection, similar to that under development by the International Seabed Authority under UNCLOS, is needed, if we are to ensure the health and sustainable use of our oceans.