Seabed Mining: The unplumbed riches of the deep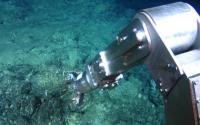 A look at the status of the deep seabed mining industry and its prospects for taking off now that the demand for rare earth metals has soared.
Quicktabs: News
One reason massive-sulphide formations beguile miners is that the metals they contain—notably copper, gold, zinc and silver—are highly concentrated. Another is that they are often big, 200 metres wide and long, tens of metres thick, and may contain several million tonnes of ore. All lie on the surface of the seabed, and many are only 1-2km below water level. At that depth technology developed for the offshore oil industry can nowadays be employed for mining. In particular, the deep-water pumps and suction pipes developed to bring subsea oil up to the surface can be used in the riser pipes needed to bring minerals (mixed with water) up from a massive-sulphide mine. The oil industry has also developed remotely-operated vehicles to make trenches for seabed pipelines, which can be adapted for cutting ore, even though it may lie much deeper, at, say, 1.5km down. In general the technology in the machines needed to carry out deep-water mining is no longer exotic. Woods Hole Oceanographic Institution has a vehicle that can reach depths of 11km.
"
Moreover, mining companies much prefer the known difficulties of operating on land to those of operating on the seabed. The risks of working in a place where volcanic activity seems to have stopped but may suddenly resume are uncertain. So indeed are the possible obligations to repair the underwater environment: no legal codes are yet in place for deep-sea mining. That helps to explain why the only places in which companies have dipped more than a toe in the water are in exclusive economic zones, which are not just shallower than many parts of the distant ocean but also within the legal ambit of a national authority.
Seafloor mining beyond countries' territorial waters is regulated by the International Seabed Authority, set up under the United Nations Convention on the Law of the Sea. So far it has issued only eight licences, all for exploration, not production, all for nodules, not massive-sulphide deposits, and all to governmental or quasi-governmental agencies (of China, France, Germany, India, Japan, Russia, South Korea and an east European consortium). No wonder. Commercial miners want both a clear title to their holding and exclusive rights to exploit it. They also have to answer to shareholders.
"