Maritime Interdiction Operations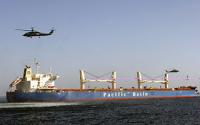 Quicktabs: Keywords
If the United States ratifies the Convention on the Law of the Sea, the legality of maritime interdiction operations whether to stop terrorist attacks or prevent nuclear proliferation will, depending on the circumstances, be left to the decision of one of two international tribunals.
The U.S. conducts a wide range of maritime interdiction and related operations with its allies and partners, virtually all of whom are parties to the Convention. If the U.S. were to ratify UNCLOS, it would only strengthen its ability to conduct such operations by eliminating any question of its right to avail ourselves of the legal authorities contained in the Convention.
The U.S. relies on maritime interdiction operations for homeland security, counter-piracy, and crime control. However, during bi-lateral negotiations, several nations have, in the past, questioned our authority to contest certain of their excessive maritime claims simply because we have yet to ratify the treaty. Becoming a party to the Convention will enhance our ability to conduct such interdiction operations and to refute excessive maritime claims.