Methane Hydrates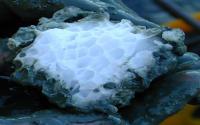 Methane hydrate, also called methane ice or methane clathrate, consists of methane, which is enclosed in frozen water. The water molecules completely surround the methane. Methane hydrate is a common constituent of the shallow marine (ocean) geosphere. Many suggest that deposits are located all over the world, which will have twice as much energy than we ever had with oil, gas and coal together.
Quicktabs: Keywords
Ratification of the Law of the Sea Convention also has an important bearing on a longer-term potential energy source that has been the subject of much research and investigation at the U.S. Department of Energy for several years: gas hydrates.

Gas hydrates are ice-like crystalline structures of water that form "cages" that trap low molecular weight gas molecules, especially methane, and have recently attracted international attention from government and scientific communities. World hydrate deposits are estimated to total more than twice the world reserves of all oil, natural gas and coal deposits combined.

Methane hydrates have been located in vast quantities around the world in continental slope deposits and permafrost. They are believed to exist beyond the EEZ. If the hydrates could be economically recovered, they represent an enormous potential energy resource. In the U.S. offshore, hydrates have been identified in Alaska, all along the West Coast, in the Gulf of Mexico, and in some areas along the East Coast. The technology does not now exist to extract methane hydrates on a commercial scale. Joint industry/government groups of scientists have been at work in the Gulf of Mexico examining the hydrate potential in several deepwater canyons. This work is intended to help companies find and analyze hydrates seismically and to complete an area-wide profile of hydrate deposits.
In the Methane Hydrate Research and Development Act of 2000 Congress mandated the National Research Council to undertake a review of the Methane Hydrate Research and Development Program at the Department of Energy to provide advice to ensure that significant contributions are made towards understanding methane hydrates as a source of energy and as a potential contributor to climate change. That review is now underway. The U.S. Navy has also done work on gas hydrates, as has the U.S. scientific community, including universities such as Louisiana State University and Texas A&M. Significant research is also being conducted by scientific institutions in Japan. The United States needs to have a seat at the table of the Continental Shelf Commission in order to influence development of any international rules or guidelines that could affect gas hydrate resources beyond our EEZ.
[ Page 5 ]
"