Customary International Law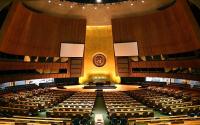 Customary international law are those aspects of international law that derive from custom. Along with general principles of law and treaties, custom is considered by the International Court of Justice, jurists, the United Nations, and its member states to be among the primary sources of international law.
Quicktabs: Keywords
Even though U.S. has not ratified UNCLOS, it still has committed itself to abiding by its principles in two ways: through numerous policy statements and laws drafted in accordance with UNCLOS and committing the U.S. to abiding by it; and due to the fact that the Law of the Sea has become customary international law. 
Opponents of UNCLOS claim that the United States should not become a party because the United States already enjoys the benefits of UNCLOS through customary law and, therefore, should not unnecessarily incur the treaty's burdens. However, this ignores the fact that customary law can change and can also be influenced by how parties to UNCLOS decide to interpret its provisions.
U.S. security interests in the oceans have been adequately protected to date by current U.S. ocean policy and implementing strategy. U.S. reliance on arguments that customary international law, as articulated in the non-deep seabed mining provisions of the 1982 Law of the Sea Convention, and as supplemented by diplomatic protests and assertion of rights under the Freedom of Navigation Program, have served so far to preserve fundamental freedoms of navigation and overflight with acceptable risk, cost and effort.